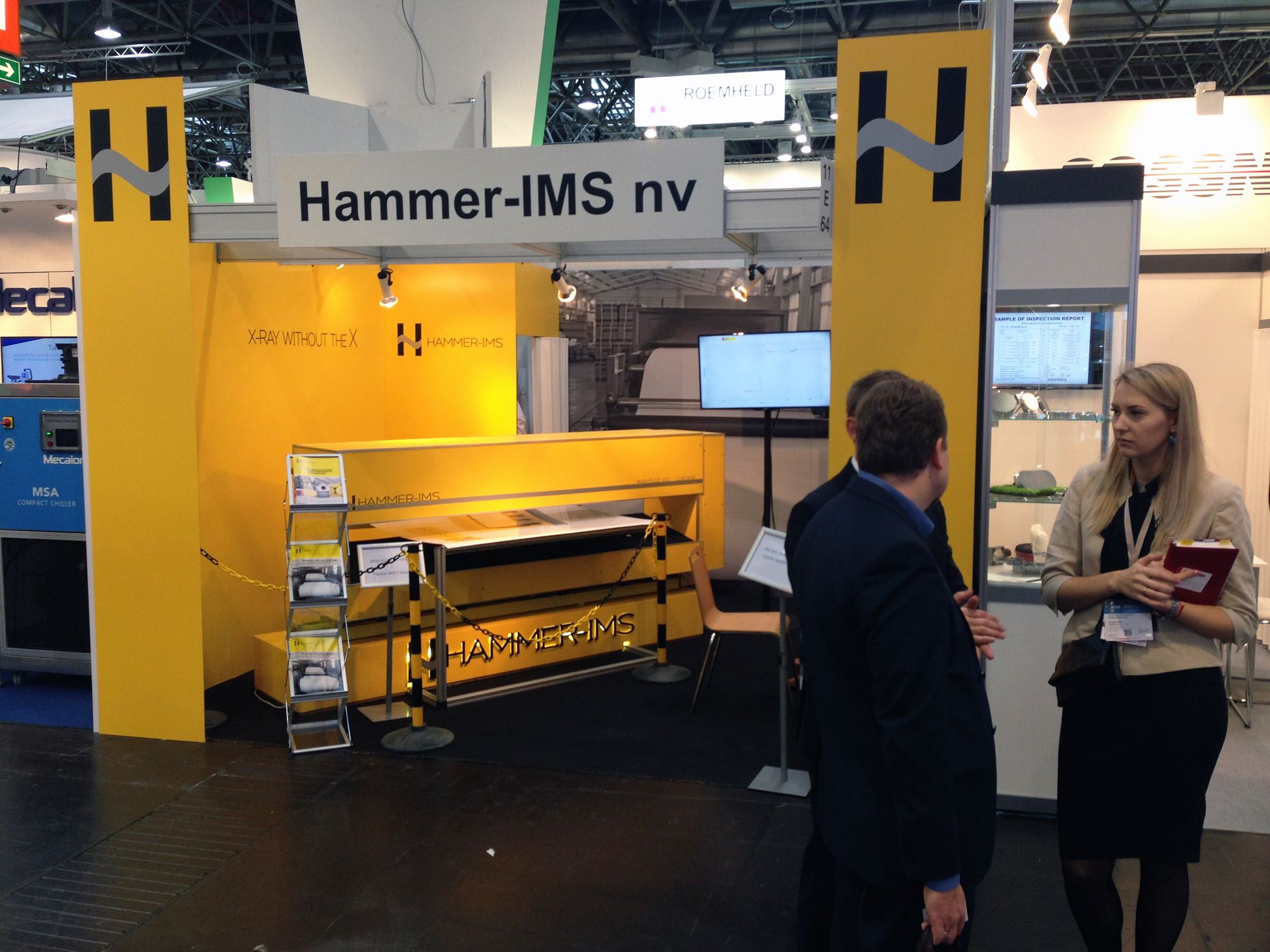 Only eight months after its incorporation and investment capital round, Hammer-IMS exhibits on K-Messe, the world's premier plastics industry trade fair in Düsseldorf. At this occasion, Hammer-IMS of Flanders demonstrates its new turnkey CURTAIN multi-head solution for measuring thickness and weight in production lines. Co-founders Noël Deferm and Tom Redant of the KU Leuven spin-off company developed a complete portfolio of revolutionary measuring solutions based on 'M-Rays' – electromagnetic millimeter waves. The turnkey systems have been performing trial runs at international paper producers and manufacturers of plastic sheets and films, composites and many other materials. Hammer-IMS offers a secure, ecologic and easy-to-install alternative for today's nuclear measuring equipment. Come and watch the Hammer-IMS system in action on K-Messe – Hall 11 Booth E64.
CURTAIN multi-head industrial solution
This year the big blast for Hammer-IMS certainly is K-Messe. In Düsseldorf we introduce and demonstrate our CURTAIN multi-head industrial turnkey solution executing fast profile measurement in cross-machine direction. In the build-up of K-Messe, EPPM magazine published a Hammer-IMS feature – introducing our enabling measuring solutions to plastic processors in Europe and beyond.
M-Rays : X-Rays without the X
Millimeter wave measurements are favorable in situations where conventional technologies such as optical technologies, nuclear or radioactive radiation, ultrasound waves, inductive or capacitive measurement systems fail, are undesirable or provide an unreliable output. The modular and robust Hammer-IMS systems offer up to micron-level accuracy on industrial in-line production machines. At Hammer-IMS, we introduced a new name for millimeter waves: 'M-Rays', which are secure, ecologic and easy-to-install.
By controlling ever higher frequencies, Hammer-IMS offers manufacturers to equip their production lines with faster and more accurate quality control.
Integrated turn-key solutions
Hammer-IMS integrates its Marveloc 602 measuring units into state-of-the-art solutions for inline measurement. Combined with our CURTAIN multi-head product, the turn-key industrial solution executes fast profile measurement in cross-machine direction. With the CURTAIN frame travelling back and forth, the system is able to measure the thicknesses of sheets or films passing through the gap over the complete width of the material. Its multi-sensor approach is a clear differentiator compared to conventional methods.
Plastic sheet and film manufacturers can decide on the length of the CURTAIN frame and the number of integrated measuring units. This way, the solution supports high-width production and situations where quick feedback is required. The system measures the thickness deviation over the entire sheet or film width, allowing to detect different types of production flaws. In case of plastic extrusion, for example, local deviations may correspond to an individual screwing bolt of the extrusion die.
The synergy between our Marveloc 602 measuring units and our CURTAIN frame technology enables Hammer-IMS to propose integrated turnkey solutions for various measurement tasks:
Measuring the thickness of extruded PET is important for both PET-extruding companies and thermoformers. The solution provides accurate performance up to PET thicknesses of a few centimeters and works with any colour additives. The solution is suitable for yield maximisation and quality control for PET extruders as well as input control for PET thermoformers.
Regardless whether you produce PE, PP, plexiglass or PC … contactless thickness profile measurement fits all plastic sheets for construction purposes. It is applicable in high-temperature conditions close to the extrusion die for quick feedback, thereby reducing material waste.
Foam extrusion faces challenges for both thickness & basis-weight measurement. Hammer-IMS solutions support the simultaneous measurement of both thickness and basis-weight by combining M-Rays with conventional sensing technology. The solutions are available both before and after cross-linking.
The Marveloc 602 family of measuring units (Falcon – Leopard – Buffalo – Spider) currently contains entry-level variants complemented with higher-performance measuring systems offering augmented measuring accuracy and/or speed.
Press contact
Rob Snoeijs
Marketing Manager
E-mail : rob.snoeijs@hammer-ims.com
Tel. : +32 499 33 14 14
Hammer-IMS nv
Kempische Steenweg 293, bus 36
3500 Hasselt
Tel. : +32 497 34 19 61
E-mail : info@hammer-ims.com
Website : www.hammer-ims.com