Known for the world's most advanced fabric technologies, Low & Bonar creates versatile materials in smart combinations to deliver performance. Since May 2020 part of German Freudenberg Performance Materials, Low & Bonar Hückelhoven is a pioneer in the technical textiles group. "The first purchased installation within the Low & Bonar has been running now for more than 10 months here in Hückelhoven, Germany," says Plant Manager Henk Hoekstra.
"Right behind the PVC calendering stage on our synthetic textile line, the Hammer-IMS inline system verifies the basis-weight of the finished products. Consistent grammage is ensured by the scanning system, which is equipped with multiple M-Ray sensors." Low & Bonar uses the system on fabrics of up to three meters wide with grammages ranging from several hundreds of grams to multiple kilograms per square meter.
During measurement, the Hammer-IMS system dynamically displays the measurement data and transfers the data to a database. The measurement results are monitored by Ulrich Volkmann from the process technology department. The dynamic quality control insights enable Low & Bonar to maintain a high quality or rapidly reach the requirements after material exchanges.
Low & Bonar optimizes productivity by flexibly using the system on thin and thick coated fabrics among which tarpaulin, tent material, etc. It could even be applied when running quality control on plastic zodiac exteriors, also an activity of Low & Bonar.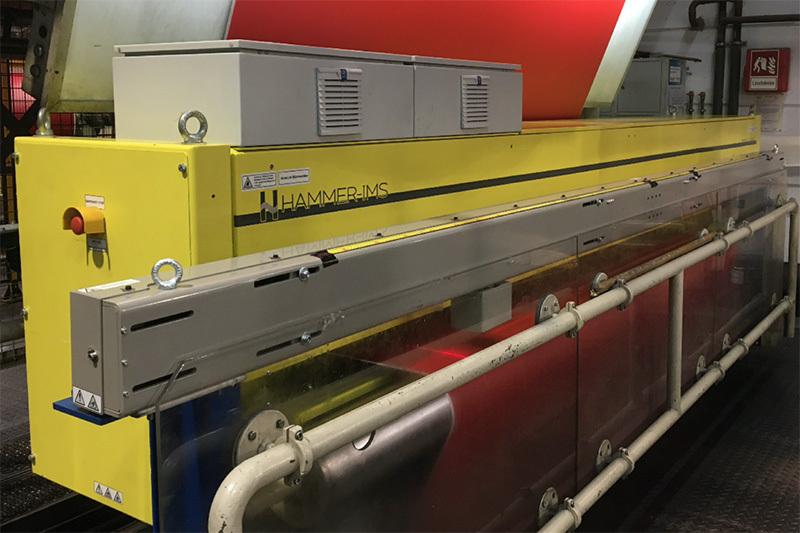 A key decision criterion for Low & Bonar was the eco-friendliness of the Hammer-IMS solution. The selected M-Ray based system eliminates any risk assessment procedures and safety precautions related to the use of radioactive or nuclear systems.
Henk Hoekstra has a visionary approach on how the Hammer-IMS system needs to deal with the preceding calendaring process. For this purpose, Low & Bonar ordered a moving dual-laser head from Hammer-IMS as an add-on to visualize the actual spots where M-Ray measurement are taking place (see gray horizontal beam in the picture).
Low and Bonar Hückelhoven is the first in a row for the technical textiles group of Low & Bonar. A second and a third Hammer-IMS measuring system already have been installed in the production plant in Fulda, Germany. Also in this plant, measurement flexibility and efficiency will ensure qualitative Low & Bonar products while further reducing total cost of ownership thanks to the systems' non-nuclear nature.