October 1st, 2017, between 10:00 AM and 5:00 PM

Hello, Sunday October 1 was a milestone for Hammer-IMS in Hasselt. We have never welcomed more than thousand people in our office on the Corda Campus in Hasselt. Thank you to everyone who was present on the open-house event. Hammer-IMS was part of the 'Open Bedrijven Dag' tour across the entire campus. Also Made in Limburg reported on the event. Click here to read the news report.
Technology innovation
The visitors took the opportunity to watch the Kanaal Z news report covering Hammer-IMS on a big projection screen. Subsequently, they watched our Marveloc-CURTAIN in action.
The solution illustrates the use of M-Rays (based on electromagnetic millimeter waves) – an innovative thickness and basis-weight measurement alternative to conventional radioactive and nuclear measurement technologies.

Turn-key industrial Marveloc-CURTAIN solutions execute fast profile measurement in cross-machine direction, yielding a near 100% coverage of the material while producing. The automated scanning system with multiple M-Ray sensors measures the thickness and basis-weight of plastic foils, foams, nonwovens, etc. It's a unique environmental friendly solution, which is ready to replace existing nuclear and radioactive systems out there in production plants everywhere.
It was great to see so much interaction between the visitors and the Hammer-IMS team as well as Pietro, the balloon twister!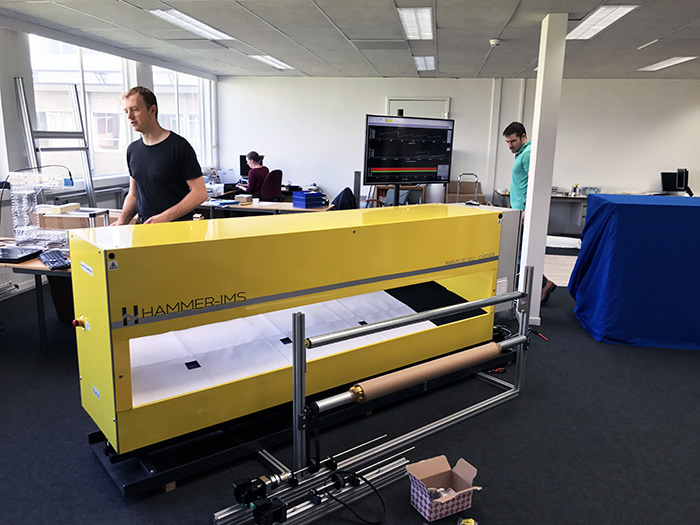 Family event
The Hammer-IMS open-house took place in a familiar atmosphere with plenty of animation for kids across the campus. There was an inflated survival track and a bouncy castle, and a virtual reality session as well as a drones demonstration.
In the past, the Corda Campus was a huge site where Philips assembly factories were located. Today, it is a modern technology campus housing 100 start-ups en 100 scale-ups developing the products and services that are changing our lives one way or another. Overal, 3000+ people are working on the campus today.
Click here to check out 'Open Bedrijven Dag' website.
Open Bedrijven Dag
Hammer-IMS, Corda 7, Kempische Steenweg 293, 3500 Hasselt
10:00 AM – 5:00 PM