Hammer-IMS kindly invites you to the upcoming Belgian event (co-organized by Hammer-IMS) where Technical and Product Manager Tom Redant will speak. The event includes short presentations related to innovative measuring techniques for coatings and a visit of the Hammer-IMS facilities.
When & where?
Date: 23 March, 2018 – 13:30
Venue: Corda Campus, gebouw 1, Kempische Steenweg 293, 3500 Hasselt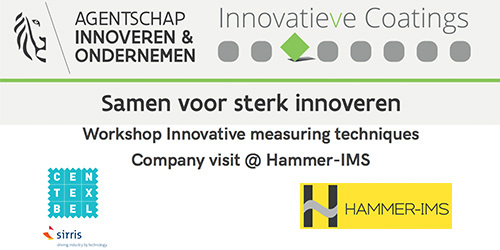 Programme


13.00 Registration
13.30 Welcome and introduction 'Cluster Innovatieve Coatings'


13.45 Hammer-IMS (Tom Redant)
Hammer-IMS develops and produces equipment that use M-Rays (based on electromagnetic millimeter waves) as an innovative thickness and basis-weight measurement alternative to conventional radioactive and nuclear measurement technologies.
https://www.hammer-ims.com


14.15 Falex Tribology (Dirk Drees)
Falex Tribology Belgium is the European technical support centre of the Falex Group, market leaders in Tribology: measurement of friction, wear and lubrication. The mission of Falex is to provide industry with relevant testing methods and data interpretation, to help solve their friction and wear problems. A short introduction on 'tribology' if followed by a few examples of successful industry cooperations and a hands-on demo for volunteers.
http://www.falex.eu
14.45 Other innovative techniques
Centre for Surface Chemistry and Catalysis, Department of Microbial and Molecular Systems, KU Leuven (Prof. dr. ir. Rob Ameloot)
ƒVapor phase deposition and characterization of nanoporous films - The KU Leuven Centre for Surface Chemistry and Catalysis specializes in the development, characterization and application of porous materials. Typically these materials are synthesized from solution as powders. This talk will highlight recent developments in chemical vapor deposition (CVD) of state-of-the art porous crystalline materials in the context of microelectronics, sensors and membranes.
LCV (Jan Lambrecht)

Laser cladding is not new but the technology is rapidly gaining interest. Due to large steps in process intensification, laser cladding also becomes price competitive with hard metal coatings such as chromium. As laser cladding is a sensitive process, a strict process control is necessary. For example, we study metallographic aspects during the development of new coatings and design test procedures for industrialisation. In addition to incoming and outgoing quality control, process control is applied, for example by monitoring the melt bath.
Laboratory for Soft Matter and Biophysics, KULeuven (Prof. dr. Christ Glorieux)
New method to measure the thickness of coatings.
15.45 visit of the Hammer-IMS facilities
16.30 Network drink
Members of the Innovatieve Coatings cluster can register free of charge. The event is also accessible to non-members against a participation fee of 150 euro.


If you would like to participate, please register at http://www.centexbel.be/agenda/workshop-innovative-measuring-techniques


The number of participants is limited. Priority will be given to cluster members.
More information about the Cluster: http://cluster-innovatieve-coatings.be