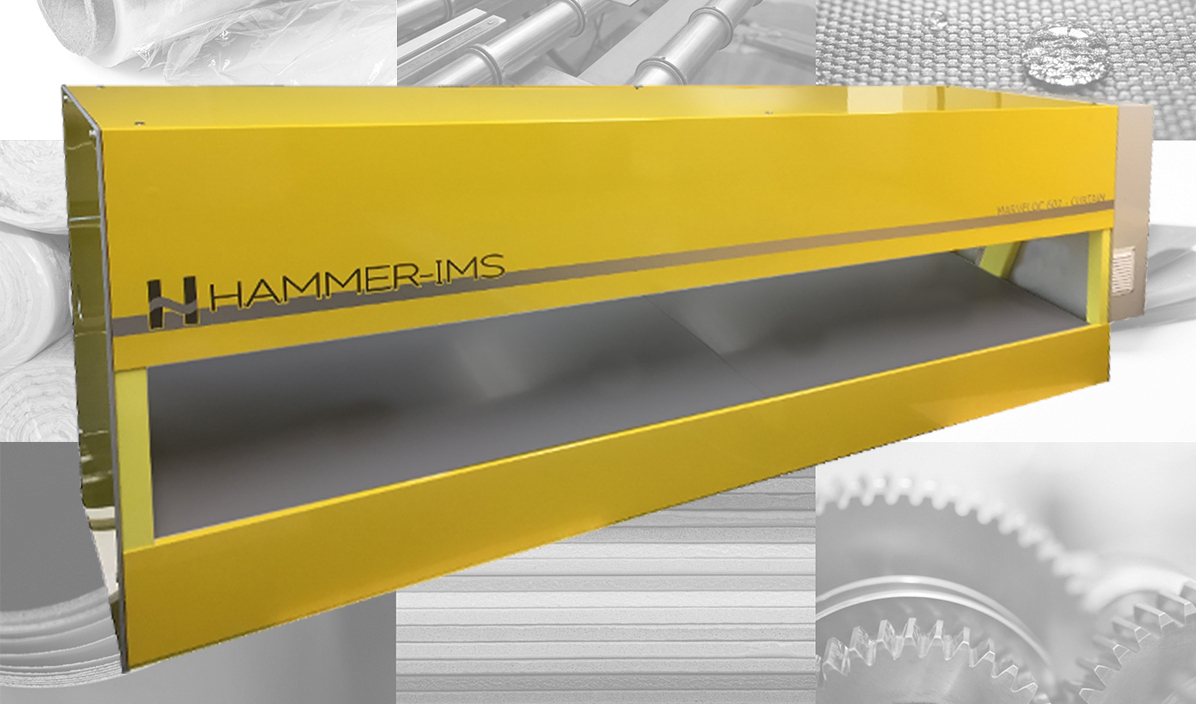 ANL Plastics – an internationally renowned producer of thermoformed plastic packaging – is now using equipment from Hammer-IMS in its production facilities in Wellen, Belgium. Hammer-IMS, a joint start-up from KU Leuven University Belgium and LRM Belgium, recently delivered its Marveloc-CURTAIN measurement system to the packaging producer. The system contains four M-Ray sensors, continuously measuring the plastic thickness on an ANL Plastics production machine. ANL Plastics experiences the technology of Hammer-IMS as fast, robust, secure, ecologic and easy-to-install. The technology is considered as a potential game-changer for the plastic packaging market, since Hammer-IMS products do not use nuclear energy.
Click here to see report on Automation.com

Stefan Tielen, CEO ANL Plastics: "The disruptive technology of Hammer-IMS fits our strategy to play a leading role in downscaling the widespread use of X-ray and nuclear measuring systems in our sector."
Noel Deferm, General Manager at Hammer-IMS: "We can be proud to have realized a unique and successful cooperation between two 100% Flemish companies with pioneering visions on technology."
ANL Plastics & Hammer-IMS : Two innovators
ANL Plastics is a leading European manufacturer of high-quality thermoformed plastic packaging products. Its premium packaging products are manufactured to stand out from the crowd in design and user-friendliness, placing customers' brands and products in the spotlight. ANL Plastics, headquartered in Wellen, Belgium, has three manufacturing plants in Europe, enabling efficient distribution across the continent.
Hammer-IMS is a KU Leuven spin-off company, commercializing new innovative systems for measuring thickness and weight of industrial products. Its revolutionary M-Rays measuring technology is based on 8 years of research in the university conducted by general manager Noël Deferm and technical & product manager Tom Redant. One year ago, they received a two-year funding from Vlaams Agentschap Innoveren en Ondernemen (VLAIO) to commercialize the technology with ANL Plastics as a reference user. Hammer-IMS has the ambition to gradually make its technology the golden standard in a range of application domains.
Everything is there to pursue business growth
"It is amazing to see how a theoretical idea from a couple of years ago resulted in industry-proof measurement machines," says Tom Redant proudly. "I am confident that we will see this technology really taking off in many other industry domains. The power of the technology lies in the microchip, the same story why new smartphones become smarter every year. With the design of our Hammer-IMS products, we are able to surf on that wave and provide cost-efficient and scalable products." Noel Deferm adds: "We keep our eyes open for new technologies and markets. We recently sold a system in the textiles industry based on a new innovative and compact measurement concept."
"It is great to see these kinds of innovations coming from local start-ups," says Tielen. "As a company, we are always looking for innovation and we are happy to cooperate with Hammer-IMS as it has provided a win-win situation. In addition to innovation, Hammer-IMS being located in our backyard is practical in terms of service and language."
This 'backyard' is Corda Campus in Hasselt, Belgium. Just like Mobile Vikings, TrendMiner, UgenTec and other innovators, Hammer-IMS has selected the Corda Campus as its home base. Here, Hammer-IMS has stepped into an attractive growth project. "We are surrounded by fellow entrepreneurs setting up pioneering companies that develop the products and services of the future. Highly educated staff are available because universities and schools in the wider area (triangle Aachen, Eindhoven, Leuven) deliver top talents specialized in many engineering fields, including ICT and electronics."
M-Rays : A game-changing measurement technology
The new Marveloc-CURTAIN measurement systems set themselves apart in many ways. No emission licenses are needed for using the electromagnetic M-Rays measurement technology of Hammer-IMS. Many of Hammer-IMS's competitors do require emission licenses since they typically use high-voltage (>5kV) X-Ray systems or nuclear systems. M-Rays are harmless because they are non-radioactive and non-nuclear. In addition, Hammer-IMS typically incorporates multiple sensors in its measurement systems, yielding a near 100 % coverage of the material while producing. Another advantage of the Marveloc-CURTAIN is the high measuring accuracy it maintains for high stand-off distances, avoiding scratches and defects on the material. The Hammer-IMS solution also allows for shipping automatically generated test reports to customers.
Exhibiting on the INDEX 2017 trade show in Geneva
A couple of days ago, Hammer-IMS has exhibited on INDEX 2017 in Geneva, the worldwide venue of the nonwovens industry. Noël Deferm: "We decided to exhibit on this event because market studies reveal an increasing demand for engineered nonwoven fabrics. In automotive we see strong growth of needlepunching and acoustic engineered nonwoven structures, and there is also a lot moving in nonwoven building construction materials."
Hammer-IMS has transitioned successfully from the university to the market place. The product offering is being improved systematically and investment capital has been attracted to finance the further growth of Hammer-IMS. In April 2016, Hammer-IMS has received a capital injection of 800.000 euro. The investors are Gemma Frisius Fonds KU Leuven and LRM. Both investment institutions have gained years of experience in supporting high tech start-ups. Last month, Hammer-IMS presented itself in C-mine in Genk where policy makers from Limburg province discussed with KU Leuven the innovation entanglement of Limburg and Leuven. Hammer-IMS already serves as a good example of this vision.