Hello, my name is Bram Iliaens. Recently, I joined Hammer-IMS as product and development engineer.
Hello Bram, can you briefly introduce yourself?
I am 24 years old and I live in Hasselt. I graduated two years ago and I have worked for Camco Technologies since then. My main hobby is water polo; I play with the team of Hasselt in Belgium's third division.
What aspects of Hammer-IMS made you apply for a job?
Initially, the job at Hammer-IMS attracted me because it would offer me the opportunity to design and develop new machines and products. This was something that I somewhat missed in my previous job. But honestly, I was not entirely convinced until after my first job interview. I had just started looking for a new job in a casual way.
The moment I found out that Hammer-IMS was a start-up and that I would be working in a small team, I really wanted the job. Working closely together with a small team gives me a great sense of accomplishment for the work that I do.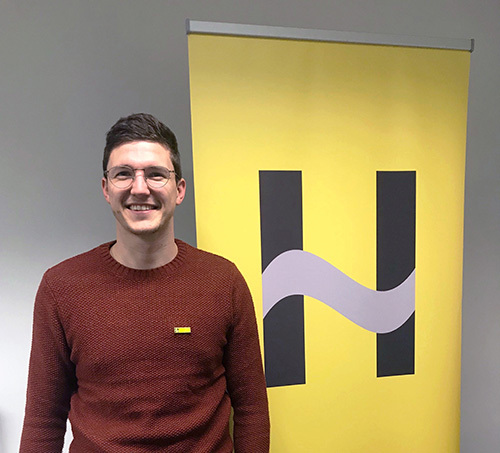 What do you think about the innovative M-Ray technology?
At first I was a bit skeptical. But now that I know more about the M-Ray technology, I'm convinced that it is the best solution on the market for inline measurement of basis-weight. I think that the main advantages of the M-Rays solutions are the high standoff and immense material coverage.
Overall, the solutions of Hammer-IMS incorporate clean and future-proof technology, making them measuring systems perfectly fit for the job.
Explain to us what exactly you will do at Hammer-IMS
Well, as a product and development engineer, my tasks are twofold.
Firstly, I am responsible for the customization of customer projects to ensure that their measurement systems are tailor made and fully functional. This is great because it allows me to be creative and problem solving. And seeing your ideas develop into industrial solutions is very rewarding.
Secondly, I work with the team on development projects. The team will continuously work to further improve existing Hammer-IMS systems, but we will also develop new technologies and prepare these for implementation in our current systems.
Your hobby is water polo, how does that help you at Hammer-IMS?
Surprisingly, there are a lot of similarities between working in a startup and playing water polo. Both are very high paced and demanding, communication is essential, and the atmosphere of the team is great. I find that both my hobby and job are very rewarding activities!
Welcome Bram!