French nonwoven producer uses a clean Marveloc-CURTAIN for inline basis-weight quality control of felts & nonwovens
A new milestone for SILAC Industrie. The technical felts & nonwovens producer near Angoulême has purchased its first non-nuclear inline measurement system from Hammer-IMS. The M-Ray technology of the Marveloc-CURTAIN system is an alternative to conventional radioactive and nuclear measurement technologies. Now SILAC Industrie can measure the basis-weight of felts & nonwovens without requiring emission-related licenses, training, protection, radioactive safety, etc. The beating heart of the installation is the Marveloc 602, a measuring device realizing measurement precisions down to 1 gsm. The Marveloc 602 is integrated in our four-headed scanning machine, the CURTAIN, of which the dimensions are tailored to handle the widths of the materials that SILAC produces. SILAC Industrie values the ecological inline quality control system of Hammer-IMS, combining high measurement precisions with low TCO (total cost of ownership).

Publication in Technical Textiles magazine: Click for English version or German version

Tight quality requirements and ecologic ambitions
SILAC Industrie is a large French producer of (nonwoven) felts in a range of categories: synthetic, impregnated, thermobonded, pressed, acoustic, etc. The company masters needlepunch technology to make flexible use of the broad availability of materials including natural fibers.
To meet tight quality requirements and ecologic ambitions, SILAC Industrie was on the lookout for innovative measurement technologies. Hammer-IMS and SILAC Industrie have met at the INDEX nonwovens exhibition in Geneva. Both companies talked about applying the clean electromagnetic M-Ray technology on the production floor in France. One year later, the system is up and running.

Inline (nonwoven) felts quality control
The new quality control system is installed in a large SILAC Industrie plant in La Rochefoucauld near Angoulême. The Marveloc-CURTAIN solution of Hammer-IMS incorporates multiple M-Ray sensors to execute automated inline measurement of (nonwoven) felts. "SILAC automatically feeds felts of up to 3 meter wide through the measuring system," says Noël Deferm, CEO at Hammer-IMS. "During inline operation, four sensors traveling in the cross-machine direction realize a high material coverage in order to detect heavier or lighter sections in the material. They can use the system for all different materials produced at SILAC because the system supports a high standoff distance and allows a plethora of web widths."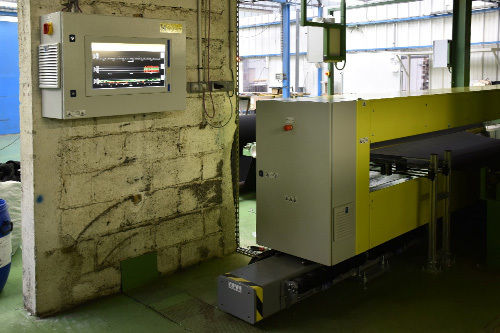 Clean M-Ray based measurements
With governments phasing out nuclear and radioactive measurement, SILAC Industrie opted for the clean M-Ray basis-weight measurement technology of Hammer-IMS. It is a new and clean alternative for high-voltage X-Ray or nuclear systems for nonwoven quality measurement. "Working with the new M-Ray based measurement systems does not require emission licenses whatsoever," says Tom Redant, CTO at Hammer-IMS. "M-Rays are by definition non-radioactive and non-nuclear, and therefore we do not need emission-related licenses, training, protection, radioactive safety, etc. This enables us to envisage a lower TCO and realize operational savings at this customer's facility."
Quality control of many (nonwoven) felt materials
Synthetic felts, pressed felts, nonwoven dyed needled felts, etc. SILAC Industrie produces a range of (nonwoven) felt materials. For each material, the production manager of SILAC Industrie uploads a specific measurement configuration to the Hammer-IMS Connectivity 3.0 software, running on the machine, by means of a USB-stick. When switching the production from one material to another, the operator selects the applicable configuration ('recipe') by a single tap on the touch screen and the device starts measuring. this simple action speeds up the process and avoids human errors to impact the quality of the products.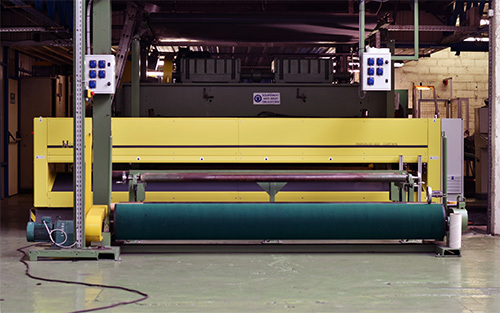 with the strategic choice for the M-Ray based quality control solution, SILAC Industrie took a new path to innovation.