For the first time, Hammer-IMS exhibits on the ITMA ASIA expo in Shanghai, China. This milestone event is China's most important textile event. "We are here to further extend our geographical reach and explore the huge Chinese market," says Tom Redant, CTO of Hammer-IMS. "We were able to scale geographically thanks to our non-nuclear M-Ray based systems for thickness and grammage measurement. Just recently, Hammer-IMS was awarded the VOKA Limburg export prize in Belgium. "We were able to scale geographically thanks to our non-nuclear M-Ray based systems for thickness and grammage measurement."
Stepstone for expanding our business in Asian regions
At this stage Hammer-IMS is extending its Marveloc sensor family with digital C-Ray, U-Ray and L-Ray sensors to drive more complete experiences in textile quality control. In addition, we are also developing powerful vision technology with smart machine learning to add complementary capabilities." Click here to read more about what Hammer-IMS undertakes to increase the competitive edge of international textile and nonwoven manufacturers.
On the ITMA Asia expo in Shanghai, Hammer showcases its Marveloc M-Ray OEM Module for third-party integration. The M-Ray OEM module has been developed with the main intention to open up the world of non-nuclear and non-radioactive thickness and basis-weight measurement to manufacturers of inline quality control systems. M-Rays can be applied to measure plastics, fabrics, nonwovens, coatings, etc.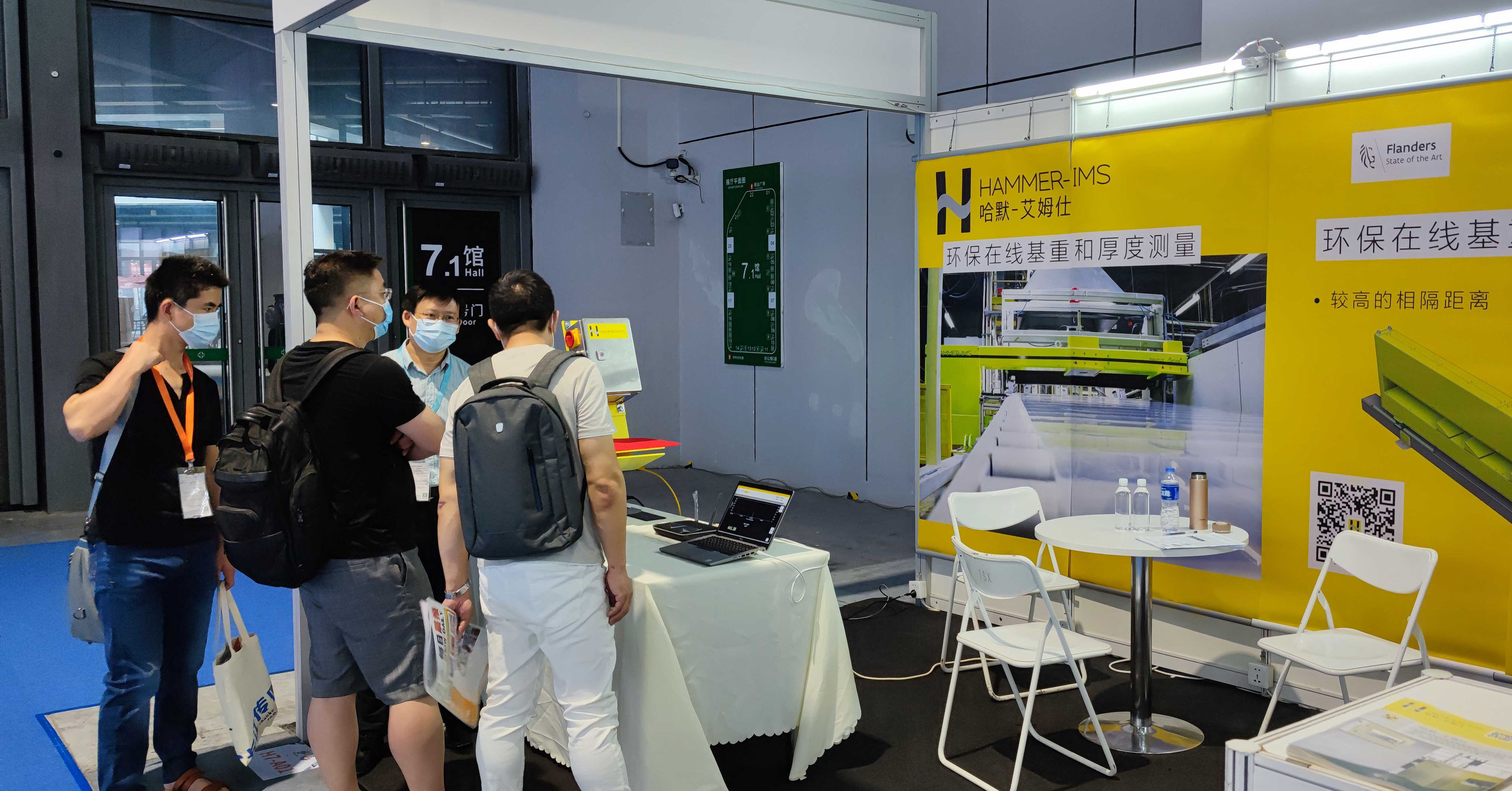 Interacting and aligning with Asian manufacturers
Hammer-IMS hosted many Asian visitors on its booth on ITMA Asia. They were eager to discover what Hammer-IMS has in store. On the booth, they watched the Marveloc M-Ray OEM Module in action and saw how it enables third parties to integrate the environmental friendly M-Ray measuring technology. Hammer-IMS also showcased its IoT app, which allows to wirelessly monitor the M-Ray OEM Module or any other Hammer-IMS measuring machine.
On ITMA Asia, it is great to interact with Chinese manufacturers of textiles, nonwovens, plastics, etc. We discuss their specific applications and what solutions are most beneficial to them. We also met with potential parties interested in integrating or measuring solutions or distributing our solutions in Asian markets.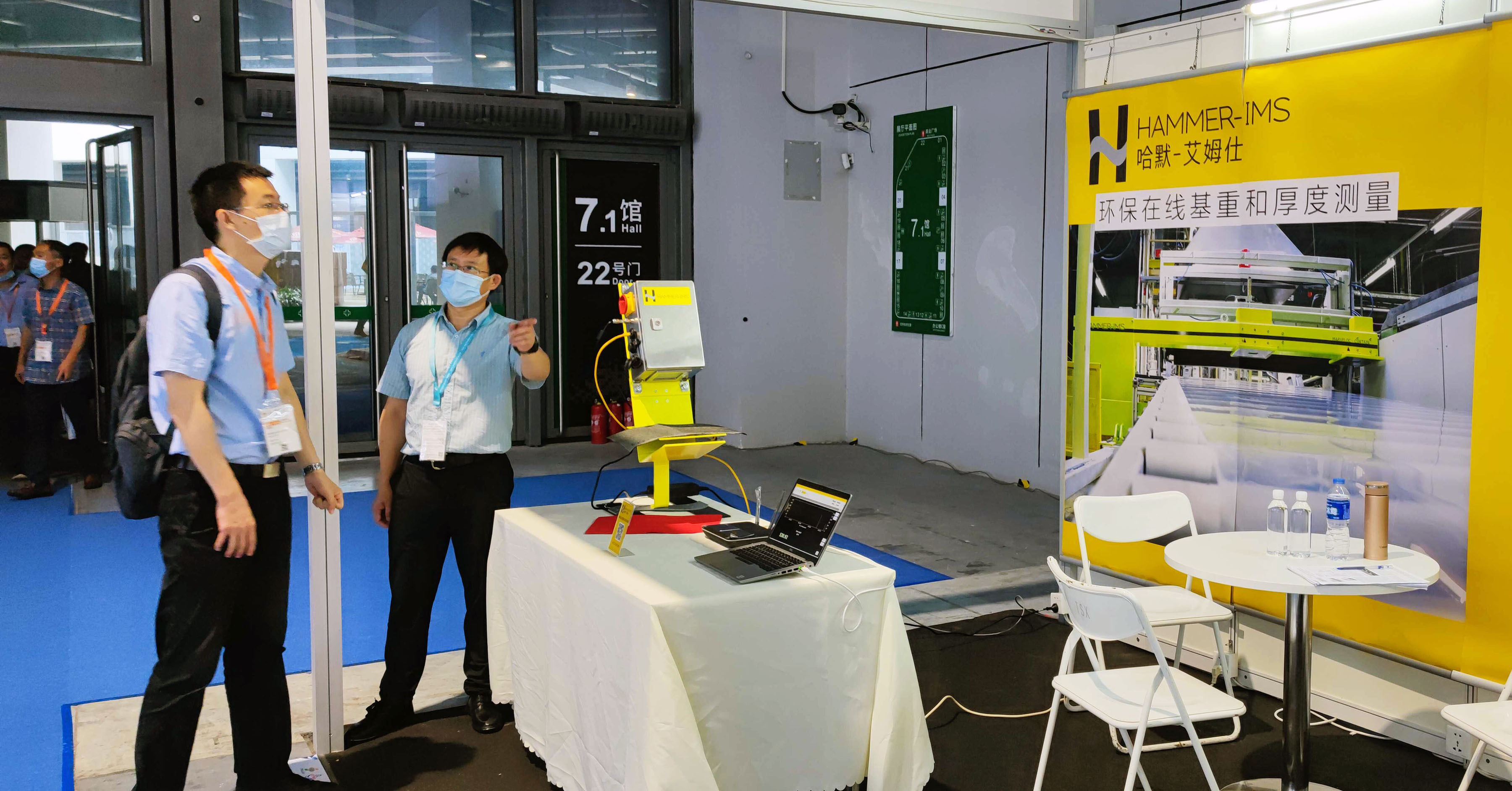 Further building on our disruptive M-Ray technology
Hammer-IMS is an innovative Belgian machine supplier, which successfully hit the market with its disruptive M-Ray technology back in 2016. Originally started as a sensor-specialist, Hammer-IMS soon integrated its M-Ray technology, based on concepts similar to radar, into its own machines for inline basis-weight measurement of textiles, nonwovens, etc. and thickness measurement of plastics, etc., and many other materials, in industrial settings.