PRESS RELEASE of 12 JANUARY 2023
Capital increase for Limburg-based manufacturer of cutting edge measuring technology accelerates its international expansion while at the same time strengthening anchoring and employment in Belgium
Herk-de-Stad, Belgium - January 2, 2023 - More than six years after its creation in 2016, Hammer-IMS attracts new venture capital in the amount of EUR 2.5 million. This capital injection allows the Limburg-based Hammer-IMS to accelerate the development of a more diverse portfolio while continuing its international expansion, including to the United States. The additional capital is provided by Invest For Jobs (IFJ) and by its very first investors, LRM and the Gemma Frisius Fund. "The new and existing investors support our technological innovations and the potential they open for additional jobs in Belgium," says Noël Deferm, General Manager at Hammer-IMS. "We look forward to working with them to realise this beautiful growth phase. At the very beginning, when we tinkered with a prototype and tried to sell it, we didn't expect that Hammer-IMS would reach such proportions."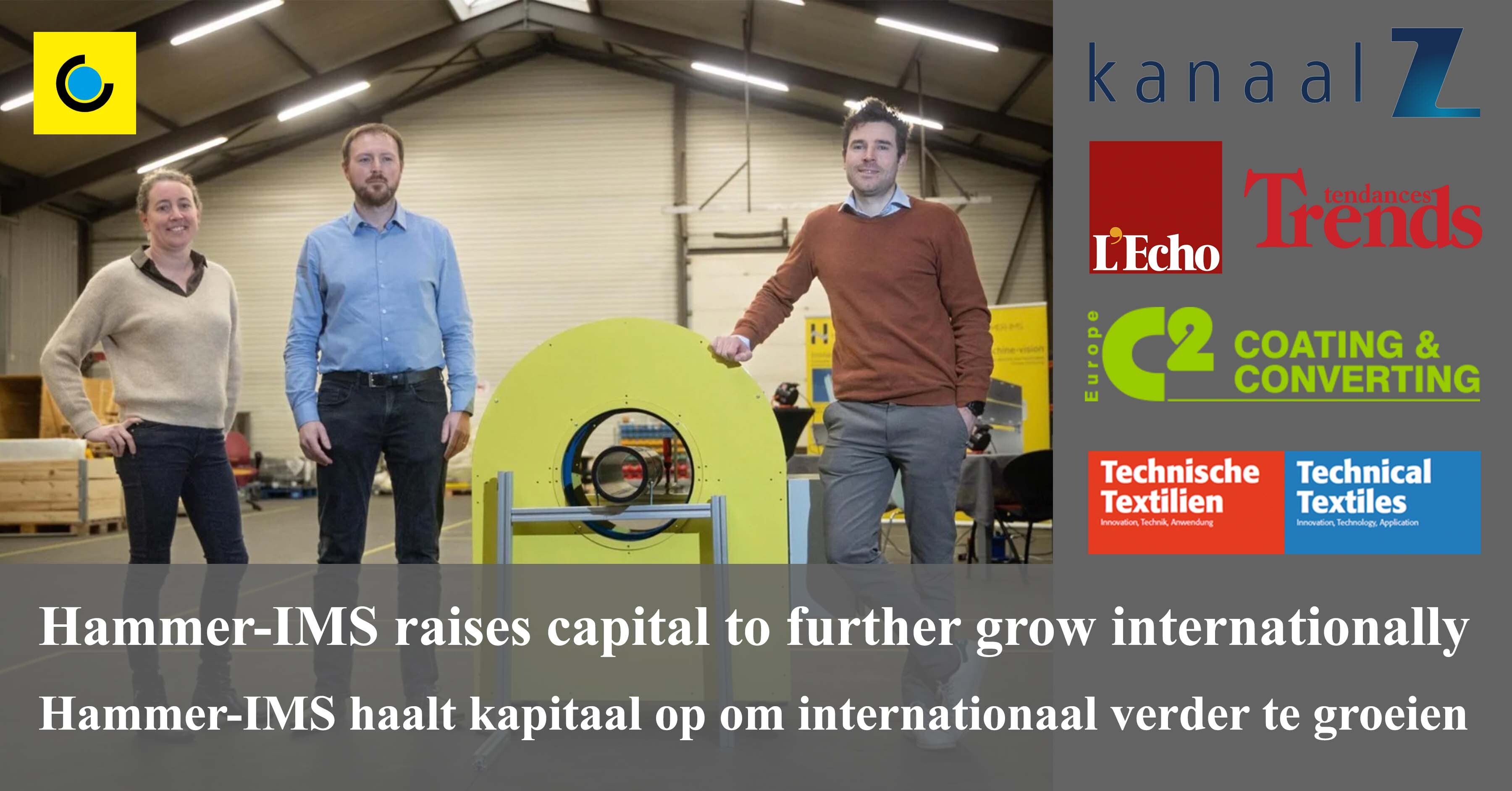 Het Belang van Limburg Kanaal Z Trends Technical Textiles C2 Coating & Converting
Eight years ago, Noël Deferm and Tom Redant, PhD students at KU Leuven – MICAS, succeeded in using radar technology to achieve precise quality control for industrial applications. With the M-Ray technology, Hammer-IMS had a safe and environmentally friendly alternative for the extensively used measuring systems that work with ionising radiation (e.g. nuclear, radioactive). In the meantime, Hammer-IMS developed several measuring sensors and machines that it rolled out to manufacturers of industrial textiles and plastics, among others. Today, the two founders continue to lead Hammer-IMS in the right direction. The management-team was recently strengthened with Nele Reynders, who, together with the founders, transformed the measuring technology into full-fledged measuring machines in the early years of Hammer-IMS.
Noël Deferm, General Manager of Hammer-IMS: "In recent years, we have systematically refined our measuring technology, expanded our offer and worked commercially on a more international scale, mostly in Europe. The present capital increase aims to accelerate this process. By offering a broader product range in a larger geographical area, we can gain an extended market share worldwide faster. To support this, we are happy to welcome Invest for Jobs (IFJ) as new investor and pleased that LRM and the Gemma Frisius Fund are once again contributing capital. As Belgians, we can be proud that Hammer-IMS remains strongly rooted in our country and stays 100 per cent Belgian-owned."
Nils Nijs, IFJ Investment Manager: "In addition to a financial return, we give particular importance with our long-term investment to employment that will root companies more firmly in Belgium. We fully support and strengthen Hammer-IMS in its current approach to provide a lot of additional jobs in the region in the coming years. At the same time, by further enhancing its technological innovations, Hammer-IMS can achieve an increased impact in terms of sustainability."
IFJ was created in 2015 on the initiative of the social partners of the metal industry and the technology sector. In addition to IFJ, Hammer-IMS' capital increase is also partly realised by the existing investors LRM and the Gemma Frisius Fund. LRM is an investment company that develops and stimulates economic growth in Limburg, and, like IFJ, places its emphasis on local employment. The Gemma Frisius Fund, set up in 1977 as a joint venture of KU Leuven, KBC Private Equity and BNP Paribas Fortis Private Equity, has years of experience in supporting high-tech start-ups.
Tom Redant, Technical Manager at Hammer-IMS: "This capital increase heralds an acceleration phase in order to place a stronger Hammer-IMS on the world map. We will speed up the recruitment of new colleagues and develop targeted products in order to operate on a larger scale. In addition to creating a broader family of measuring solutions, we will further expand our sales and technical support internationally, among others to the United States. Together with our shareholders, we strongly believe that we can turn Hammer-IMS into a global player."
Hammer-IMS, a machine builder that is working with its own innovative and environmentally friendly sensors, is really looking forward to it. Tom Redant: "The measuring machines, in the typical yellow colour, that closely monitor quality control in production plants for textile and plastics, are now well known in the sector. Hammer-IMS will in the coming years continue to focus on machine vision and artificial intelligence to detect and classify production errors. Smart algorithms, that include learning through deep learning, help to perform advanced inspection tasks, which offer end customers a competitive advantage.