Fruitful collaboration with metalworking company in Hasselt results in robust and accurate mechanical structures with sleek yellow finishing for a worldwide export market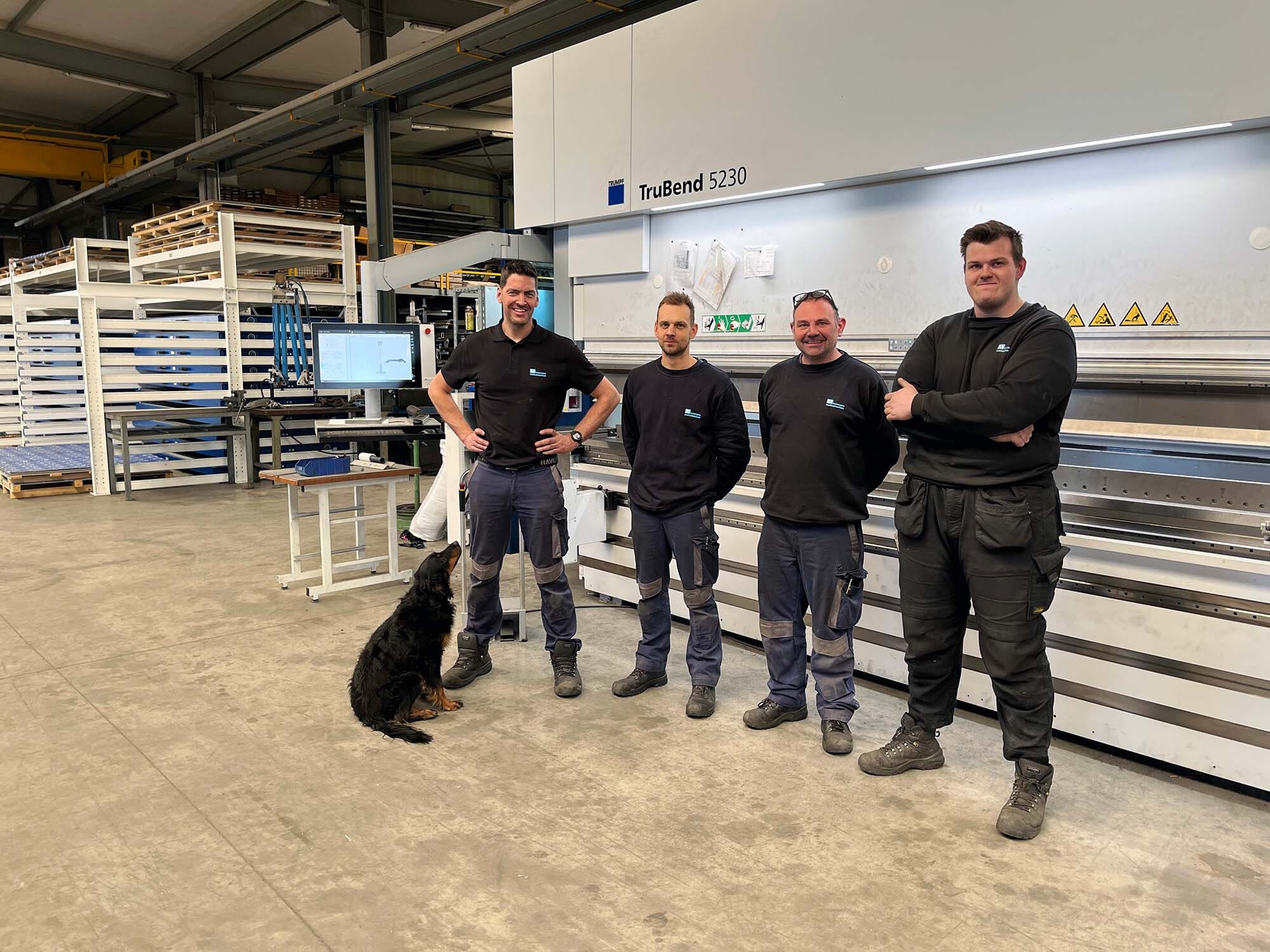 Stephen Brams (left) posing with his metalworking team at Kreemers Metaalwerken
Almost seven years ago, Hammer-IMS looked around regionally to outsource custom metalworking assignments. Kreemers Metaalwerken proved to be the right choice for manufacturing the welded frames, sheet metal covers and many small parts of Hammer-IMS's machines. These produced parts in steel, stainless steel and aluminum make up the machines' mechanical core, which requires high accuracy and structural rigidity.
"When looking back, Hammer-IMS and Kreemers Metaalwerken have already been sharing an inspiring collaboration together," says Stephen Brams, General Manager of Kreemers Metaalwerken. "We pushed and challenged each other with the common goal to continuously improve the Hammer-IMS machine assemblies from a technical, esthetical and economical viewpoint."
Stephen Brams: "Over the years we increased our metalworking skills and invested in automated programmable systems for laser cutting, metal bending, milling, drilling and thread turning. Thanks to our digital process flow, we realize the custom tasks of manufacturing, machining and partial assembly of a machine parts set in only a few days. My team as a whole delivers machine subassemblies in the typical yellow color that characterizes Hammer-IMS. It is definitely an advantage that Hammer-IMS and Kreemers Metaalwerken are located near each other."
| | |
| --- | --- |
| Frames being welded for a large Hammer-IMS quality control machine | A finished C-frame machine subassembly delivered at Hammer-IMS |
"Our collaboration with Kreemers Metaalwerken is a success. It is so valuable to have such a capable and flexible metalworking partner so nearby," marks Nele Reynders, Operations Manager of Hammer-IMS. "From the start, the interaction with Kreemers Metaalwerken worked well and the size and frequency of metalworking assignments grew ever since. Within our growing team, we have several people drawing CAD files of machines and it is great to receive valuable feedback from Stephen of Kreemers Metaalwerken. His team members, highly experienced and trained for precision, think along with us in order to move faster and more accurately. Overall, they deliver qualitative and appealing machine subassemblies, finished without visible welds."
Nele Reynders: "After receiving the metrology-verified subassemblies, we mount them on our linear motion platform, apply the electrics and integrate our unique sensor technologies including firmware. After extensively testing the machines' performances and packaging, they are ready to be shipped to customers."
The experience and flexibility of Kreemers' professionals make the difference. In addition, their eagerness to learn and share insights enables Hammer-IMS to further improve the build quality and efficiency of its quality control machines. Hammer-IMS certainly hopes to further extend the collaboration with Kreemers Metaalwerken in the future.
Different structural subassemblies for new quality control machine models, developed by Hammer-IMS, illustrate the qualitative custom metalworking of Kreemers Metaalwerken