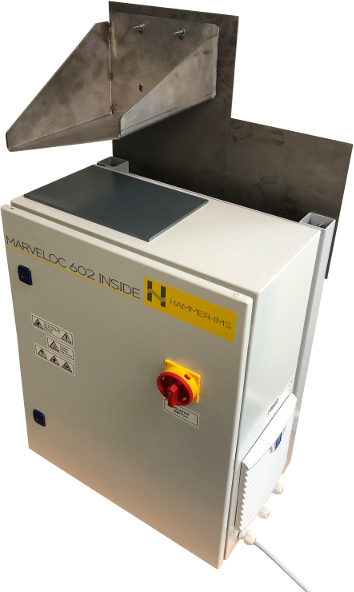 Hammer-IMS has successfully delivered a contactless and clean device for measuring the basis-weight of felts and woven products to Heimbach. The milestone of successful application of Hammer-IMS's M-Ray technology in the specific application domain of Heimbach consolidates the position of non-nuclear and non-radioactive gauges in the nonwoven and textile sector.
The Heimbach-Team integrated the measuring system into an existing installation, replacing an old-dated existing nuclear gauge. The company's R&D team has benchmarked the measurements to historical data obtained by means of a nuclear (beta radiation) gauge, concluding the Hammer-system is as equal valuable to them as traditional nuclear gauges. Following a successful testing phase, the new sensor has been approved as Standard for basis weight measurements. Hammer-IMS technology enables measuring very thick nonwovens thanks to the high stand-off distance of the sensor head. With this first project at their facilities in Düren, Heimbach is ready to comply with impending international guidelines in the direction of a nonwoven and textile industry free of nuclear radiation.
"The installation-case at Heimbach has been challenging in terms of geometric boundaries and integration with existing equipment" says Tom Redant, technical manager at Hammer-IMS. "Furthermore, a new calibration approach had to be designed for this specific application case". Heimbach, on its turn, is clear: "The fact that Hammer-IMS's measuring systems support a broad range of nonwovens as well as textiles (Felts and Fabrics) made us choose for an installation of this kind". "Heimbach's specific application domain within the PMC market opens up new possibilities for our equipment", continues Noël Deferm, general manager at Hammer-IMS. "European member states discourage the use of nuclear and radioactive installations to which our technology is a valuable replacement in the textiles and nonwoven sector.", he continues. "Recently, the Belgian government has banned the use of Americium-241 for measurement of bottle filling levels. We expect inline production of nonwovens, textiles and plastics will be affected by a similar law in the near future".