ThermHex Waben is using a non-nuclear and non-radioactive quality control machine of Hammer-IMS. The three-sensor inline scanning system measures the grammage of thermoplastic composite honeycomb panels and polypropylene honeycomb cores. In addition, the system with high measurement gap automatically adjusts the production's extrusion die to compensate for grammage variations. The innovative Hammer-IMS machine controls the production process better and eliminates human-related errors in the products of ThermHex Waben.
Hammer-IMS and ThermHex Waben successfully worked together on inline quality control for honeycomb materials at the premises of ThermHex Waben. ThermHex Waben, based in Halle am Saale in Germany, produces thermoplastic composite honeycomb panels and polypropylene honeycomb cores as core material for lightweight sandwich components. Its versatile honeycomb cores enable lightweight sandwich panels and parts for different applications such as truck boxes, boat interiors, prefabricated bathrooms or even modern swimming pools. The products are lightweight and therefore reduce their impact on natural resources. The ThermHex continuous production process is patented and highly efficient.

ThermHex Waben has invested over the last years in extensive automation of its production process. Hammer-IMS was contacted to provide an inline contactless grammage scanner system, being able to autonomously tune the production process better and eliminate human-related errors within the products of ThermHex Waben.

Dr.-Ing. Jochen Pflug, Managing Director ThermHex Waben: "The Hammer-IMS system does not rely on nuclear radiation. It is therefore 100% compatible with human interaction and within European regulations. It is thus 100% in line with the sustainable values at the companies Econcore and ThermHex. The specific nature of our ThermHex production process requires that we have a gap in the measurement system and the Hammer-IMS system offers at least 5 centimeters of gap. This was a very good solution. The fact that the Hammer-IMS solution allows three measurement heads, enables us to measure the left, right and in the middle continuously. The system is running now for months and we are very happy with the measurement results."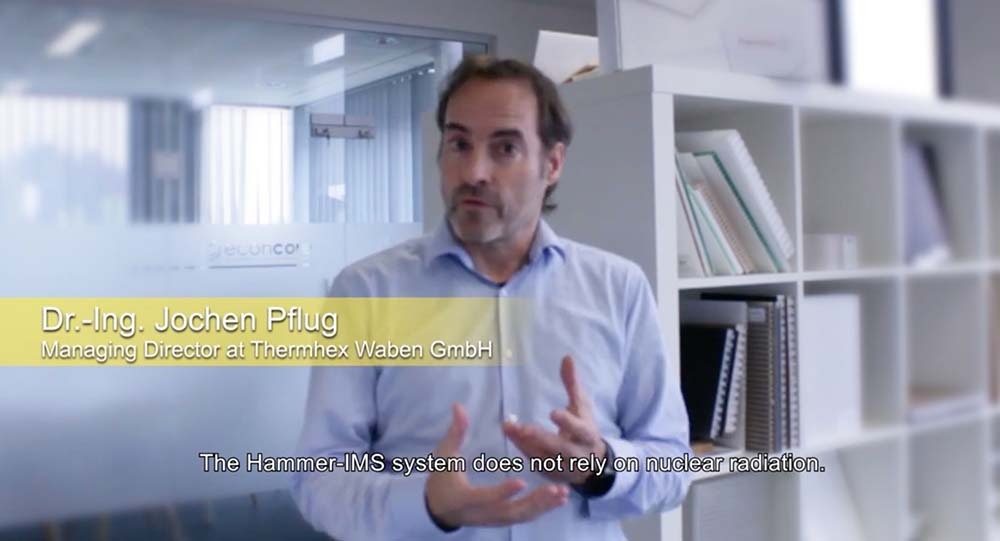 Tom Redant, Technical Manager of Hammer-IMS: "The scanner measures the basis-weight of the film for the honeycomb material being extruded. What makes this scanner interesting, is that it is a non-nuclear and non-radioactive solution. Furthermore, we have a very high measuring standoff, which makes it particularly interesting for this specific market of honeycomb materials. This is because the film is not a flat film. Instead it is a currogated one. Now, of course, the scanner comes with an integrated software system which enables the customer to deal with all the valid measurement points. The software also integrates a controller. The controller is the tool that really changes the setting of the customer's machine. So we are not only doing measurements here. We are also changing the setting of the extrusion die. Behind me there is this extrusion die for which the software is responsible for controlling teh gap of this extrusion die for which the software is responsible for controlling the gap of this extrusion die. We do this by means of our software that is connected to an additional cabinet. This cabinet contains all the power electronics to make sure that we can do automatic die control and that basically the customer does not have to interfere with this production line anymore. Variations in thickness or basis-weight will be handled by the automatic die control system."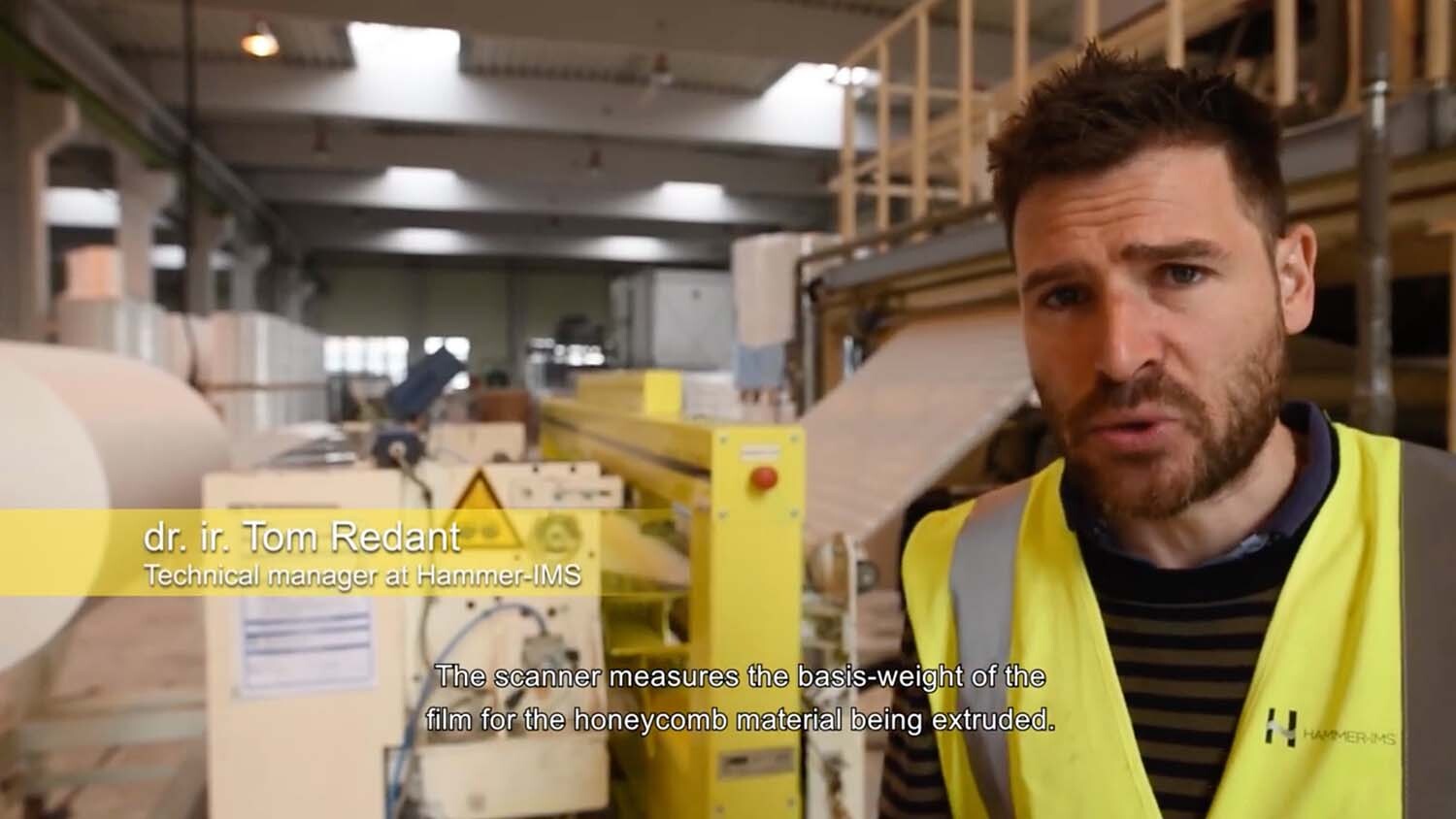 "Once the customer has our data, we can just let him do what he wants," says ing. Joost Poelmans, R&D Engineer of Hammer-IMS. He can do some modifications, do his own analysis and then adjust his process accordingly. So you can say, if you own a system from Hammer-IMS, you not only own a standalone system."
So pretty good results here," concludes Tom Redant. "Interesting application: a scanner, a software and a bolt-steering system by our company Hammer-IMS."