Sector leader DILO demonstrated Belgian Hammer-IMS on ITMA 2019 in Barcelona
DILO - a German manufacturer of industrial production lines for the textile industry, and also sector leader – has demonstrated a measuring system of Hammer-IMS on ITMA 2019. It is a resolute statement made by Dilo to showcase the yellow, non-radioactive measuring machine of Hammer-IMS on its large booth on the famous industry expo in Barcelona. On the Dilo booth, visitors were treated to a real-time quality control executed by a machine of the company from Hasselt. In the video below you clearly see the yellow M-Ray based inspection system of Hammer-IMS in action!

Following a process of more than six research years and three commercial years, Hammer-IMS realized a respectable number of international sales to production companies. On the strategic side, Hammer-IMS is now putting itself on the map of established OEM players in the nonwoven market. "We take pride in the fact that a German company of this size and heritage selects our Flemish innovation on this trendsetting textile expo."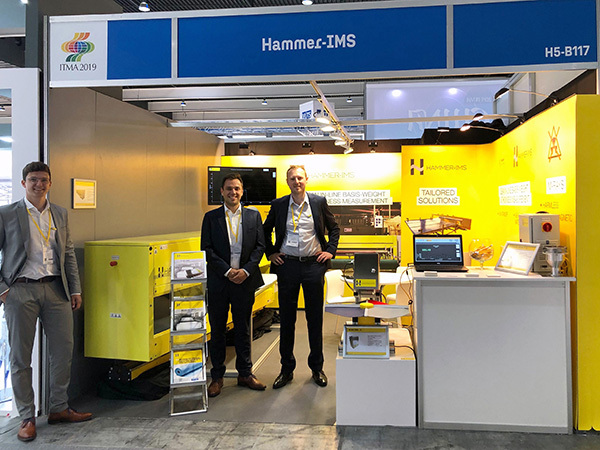 Hammer-IMS has recently joined the Belgian Textile Machinery Association, Symatex, which represents the Belgian delegation on ITMA. With this membership, Hammer-IMS will contribute to Industry 4.0 in Belgian textile companies over the coming years.
In the slipstream of the expo, the gouvernor van West-Flanders, Carl Decaluwé, took the time to interact with the Belgian exhibitors, among which the delegation of Hammer-IMS.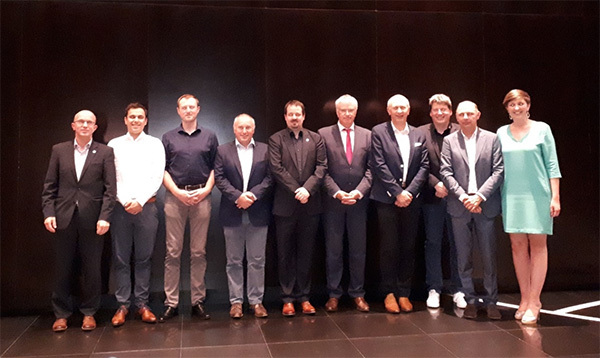 In the meantime, Hammer-IMS is working on the development of new machine concepts. "Everything is possible, but the innovations we introduce on the market will only be available in our typical yellow color!"