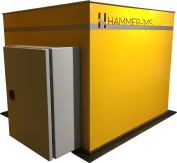 Check out the advantages of our CUBE!
Clean M-Rays
Our 'CUBE' incorporates clean proprietary M-Ray measurement technology supporting robust and performant inline measurement. M-Rays are entirely non-nuclear & non-radiactive, as opposed to x-ray based or beta emission based systems that governments are starting to phase out. The high wave dynamics of the Marveloc-602-generated M-Ray technology guarantees robust measurement and anomaly detection. The longer the M-Rays travel through the material, the thicker or heavier the material.
Clean M-Rays measurement technology – non-nuclear & non-radiactive
Robust thickness measurement, basis-weight measurement & anomaly detection
Plug-and-play
CUBE is a compact module, positioned above the moving material in any production line. It runs reflective measurements from above, so hardly any space contraints from underneath. The CUBE measurement system – including state-of-the-art electronics, algorithms and mechanics – is ready for immediate action.
Fixed-point measurement with multi-cm standoff distance
Pre-configured to meet your measurement precision and responsivity requirements
Intuitive software (Connectivity 2.0) operated through a touch screen
Fully inline calibration avoids removing CUBE or emptying production machine
Monolithic design
The M-Ray sensor is installed in an aluminum cube construction. Such rigid structure stands for improved measurement repeatibility and does not induce mechanical wear on critical technology parts. Food or medical grade production facilities benefit from the rigid design without moving parts or lubrication.
Multi-duty
The waves of the M-Rays sensor penetrate through most non-metallic materials. As CUBE features a non-moving sensor, the compact solution is most suitable for inline measurement of:
Nonwovens (needlepunching, bonding, tufting, etc.)
Textiles (lamination, coating, etc.)
Physical & chemical foaming processes
...
Single-click recipe selection
It is not required to be an M-Ray professional to run CUBE in your production plant. With a single click, oparators select the pre-configured recipe configuration that is currently processed or produced on your machines. Operating the CUBE measurement system is straightforward, saving time and avoiding human error. Production managers can upload recipes from an Excel-compatible file directly to the CUBE software.